Collective that uses art and design to tackle urban dereliction in Toxteth, Liverpool, becomes first non-artists to win by The Guardian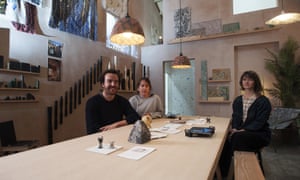 A direct action collective described by one member as "sort of architects, sort of not, sort of maybe" has won the UK's most prestigious art prize with an urban regeneration project.
The 18 members of London-based Assemble were named winners of the 31st Turner prize on Monday night, receiving their ?25,000 prize from the Sonic Youth co-founder and artist Kim Gordon at an awards dinner broadcast live on Channel 4 from Tramway, Glasgow.
Assemble are the first non-artists, in the strictest sense of the word, to win the prize. They were nominated for their work tackling urban dereliction in Toxteth,Liverpool, the aim being to use art and design to improve houses and the lives of residents living in an area called Granby Four Streets.
Judges praised what they called "a ground-up approach to regeneration, city planning and development in opposition to corporate gentrification". The winning citation added: "They [Assemble] draw on long traditions of artistic and collective initiatives that experiment in art, design and architecture. In doing so they offer alternative models to how societies can work. The long-term collaboration between Granby Four Streets and Assemble shows the importance of artistic practice being able to drive and shape urgent issues. ?read more…